Contributors: Dr. Gaffar Peang-Meth
October 14, 2011
An article by Dr. Gaffar Peang-Meth published by the Asian Human Rights Commission
Last August, my column in this space examined the future of Cambodia's youth and education. Immediately after it appeared, an American friend e-mailed to ask if I was perhaps too pessimistic.
Cambodia has the youngest population among the 10 members of the Association of South-East Asian Nations. Two out of 3 Cambodians are under 25 years of age, and more than 30 percent of the country's 14 million people are between the ages of 10 and 24 years. With such a young and vibrant population and an enviable rate of economic growth for the past 10 years, what about the future does not beckon brightly?
Last July, the United Nations Development Programme released results of a survey of Cambodian youth. Ninety-five percent of young Khmers are proud to be Cambodian nationals. They said the country is headed in the right direction.
Double-edged sword
But, statistics are a double-edged sword.
Reports abound about many of the young and vibrant population who fall prey to alcoholism and the "Perfect High"; live in a culture in which bribery is prevalent and has spread nationwide among pupils, students, teachers, and officials from elementary school to university level, to the Ministry of Education.
Doctorate degrees, and honorary degrees from non-accredited institutions, are much prized credentials that improve one's job prospects and social status. Even military officers and government officials want doctorate titles. There are some 2,000 Ph.D. candidates in the country.
However, the UNDP reports that the 300,000 Cambodians who enter the domestic labor market yearly often don't have the skills required by private-sector employers.
Concerning Cambodia's outstanding economic development, Cambodians and foreign donors know that has been accomplished through violence and through governmental actions that have created in essence a "country for sale." Tens of thousands of villagers' homes have been burned down or dismantled and demolished by authorities. Privately owned land has been taken by force; tens of thousands of people have been evicted; and many have been brutally beaten. The country's forests are fast disappearing and national resources are being sold to foreign investors while some 35 percent of the people live on 75 cents to one dollar a day.
Without change, what optimism should I hold for Cambodia's future? Indeed, change will come, to be followed by further changes. One who wrote to me noted the fear that the inevitable change may be accompanied by bloodshed.
As Lord Buddha taught, "Nothing is permanent." Fitting is what American civil rights leader Martin Luther King, Jr., said: "The time is always right to do what is right."
"Dark Age"
In e-mail communication with a reader I do not know, whom I will call Samreth, I learned of his love for history, culture, tradition, and Buddhism. He said he likes to read and he collects materials on the Khmers and Cambodia, his native land. A democrat, he has visited Cambodia, and described to me how today's Khmer society has changed almost beyond recognition from what it once was.
Ignorance and all that it begets are on full display in contemporary Cambodia, Samreth asserted. Civility and discussion based on ideas seem to have disappeared; Buddhist institutions are facades that no longer provide a meaningful cultural foundation; the military and the police are for hire; leadership is absent.
Samreth's conclusion: "We Khmers are in the midst of a dark era that requires especially individuals with quality thoughts and those willing and able to contribute to the rebuilding of Khmer society for the long run."
Quality thinking
Maybe I've missed what has been percolating for some time, but certainly this year I see what appears to be a new trend: Increasingly, writers are employing topical, analytical, intellectual and thoughtful approaches to Khmer issues. The writings are educational and informative in the understanding of Khmers and Cambodia. They provoke thought and uplift my spirit. This new thread is a wonderful counter to the profane "free expression" that has polluted public discourse in Cambodia in recent years. Strong words, noted Victor Hugo, indicate a weak cause. Perhaps the strength of a new cause is beginning to take hold.
Readers familiar with my writing know of my embrace of the concept that it's not what we know but how we think that determine the quality of all that we do. Influential psychologist in education, peace, and conflict resolution, Carl Rogers, posited: "The only person who is educated is the one who has learned how to learn and change."
I believe anything and any human is capable of change. Reproductive-repetitive behavior needs to stop. If you are accustomed to doing something the same way every day, then reverse it or stop it altogether. This is "unlearning." New productive-innovative behavior needs to start. It needs criticality – to probe to understand, to compare to increase options and to select the best; and it needs creativity – to generate something from nothing, and keep adding new ideas, ad infinitum.
We need our inquisitive minds to continue searching for answers. We must be curious, imaginative, and not stop asking questions.
A new trend?
Recently, I read Sean Kosal's article, "Majority of Cambodians do not like reading books."Kosal asserted that actually less than 10 percent -- if even that number -- of Cambodians like to read books. I don't know if they don't like to read books, or if they don't like to read, period. Anyway, that anecdote alone serves to explain to me many things about issues concerning Khmers and Cambodia.
Kosal did his research. He talked to educators and students, he studied the environment. He found that generally, Cambodians don't understand what benefits reading brings, or they don't appreciate writers; they aren't curious, don't care to find out or to learn; never develop a reading or an inquisitive habit; but students want the teachers' materials to learn by heart.
Kosal cited a university graduate in economics who said reading is essential before taking exams, otherwise books make him lazy and tired. Have you heard some students say that thinking hurts their heads?
According to Kosal, another educator believes Cambodian families and schools do not socialize children, as others in more progressive countries do, toward the love of learning.
Then I came across writings by James Sok. His writings so impressed me that I contacted him.
Formerly from Kandal Province and schooled in Battambang, he was with the Khmer national resistance at the Khmer-Thai border until 1980, when he left for the United States. Now, an American citizen, he is a systems administrator in the northeast United States.
James Sok, who basically agrees with Kosal about the principal causes for Cambodians' lack of interest in reading and researching, has called in his writings for Cambodians to read, to think, to study, to make extra efforts to improve themselves intellectually and emotionally: "Khmers need resources in intelligence, spirit, and knowledge … conforming to Khmer concepts of learning harder, seeking and saving more, and sharing what we know."
Recently, in "It's time for Khmers to stop being ignorant," James Sok reminds Khmers that it took a long time for Khmer heroes to build the Khmer Nation; while a nation rises or declines in history, it's the responsibility of the people to rebuild. Sok calls on Cambodians not to be angry, but use their current plight as a lesson, to study and learn from it to become "learned, developed, strong like the time of historical greatness."
Sok ridiculed those who "just sit, shake legs, insult, accuse and libel" others.
The "Neighbors"
Early this month, a one-page op-ed posted on a Khmer blog brought me another ray of hope. To me, this is about thinking. "Education," the writer said, "will bring about freedom from all the bondages and suppression, including Vietnamization of Cambodia!" What?
The idea that education would bring "freedom from … Vietnamization of Cambodia," is novel to me, especially at this time when Khmers in general are overwhelmed with worries and fear that their strong neighbors will usurp Cambodia. The op-ed asserted emphatically, "Cambodia will not lose her name and culture … nor all of her land."
I agree with that writer. I do not understand how in this 21st century a nation and its people can vanish. I don't discount the seriousness of the Vietnamese threat. Indeed, hundreds of thousands – Hun Sen's opponents say, millions – of Vietnamese immigrants who have resettled on Khmer soil do change the Khmer cultural, economic and political landscape. But an educated, prosperous Cambodia would find ways to profit from cultural diversity. Ignorance, the current dismal state, knows only fear of what change might bring.
Some in the international Cambodian community are taking advantage of the 20th anniversary of the Paris Peace Accords (October 23) that ended the most recent war in Cambodia to call upon the signatories to "reactivate" the accords to stop Hun Sen's abuses and remove the Vietnamese from Cambodia. This tactic is a diversion that will produce no result. Khmer democrats are on their own, and might be encouraged to read a recent article (Newsweek September 25) by Harvard University professor Niall Ferguson on Palestine's recent bid at the UN to be certified as a state. In "You Were Expecting Statehood," noting Palestine's (inevitable) disappointment, Ferguson concluded, "The U.N. serves the interests of great powers. Just as it was meant to." The great powers have no interest in reactivating the 1991 Paris Accords.
"Work out your own salvation," preached Lord Buddha, "Do not depend on others."
The author of the op-ed, who signed as "Pissed Off," says, "What remains to be done … (for) the survival of the Khmer race is … to help promote and sustain education for every child in Cambodia." When "educating every child in the country becomes a reality," Cambodia would become a country in which "citizens are well informed," and no dictatorship can "bud, much less grow," on their land. Education will free Cambodians from their neighbors, Anonymous assured.
I agree. Education helps strengthen a people's sense of values, traditions, and nationalist sentiments that keep them unique. Educated and well informed citizens are better equipped to solve problems in imaginative and creative ways.
James Sok enters, again. The Vietnamese are in Cambodia because Khmers allowed them to come, Khmers relied on the Vietnamese, and "today, increasing numbers of Khmers ally themselves in different ways with the Vietnamese."
Sok's solution? Khmers' resources in intelligence, spirit, and knowledge need to be rebuilt for Khmers to become "learned, developed, and strong." "There are too many Cambodians who are ignorant today," Sok argues, "that's why Cambodians joined the Vietnamese." Reverse course, Sok urges.
Perhaps, Cambodians' "soft power" will advance their struggle for rights and freedom.
The views shared in this article do not necessarily reflect those of the AHRC, and the AHRC takes no responsibility for them.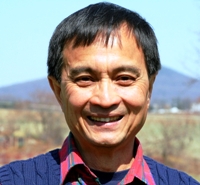 About the Author:
Dr. Gaffar Peang-Meth is retired from the University of Guam, where he taught political science for 13 years. He currently lives in the United States. He can be contacted at
peangmeth@gmail.com
.
# # #
About AHRC: The Asian Human Rights Commission is a regional non-governmental organisation monitoring and lobbying human rights issues in Asia. The Hong Kong-based group was founded in 1984.