The Straits Times -
30 Aug 2014

By TAN HUI YEE THAILAND CORRESPONDENT IN BANGKOK

IT TOOK mere hours, rather than days, to wrap up the first reading of Thailand's 2015 Budget Bill on Aug 18. Junta chief Prayuth Chan-ocha presented the draft. Seventeen members spoke, in a National Legislative Assembly of then 197 representatives, appointed and dominated by the military. The House then passed the Bill, 183 to nil.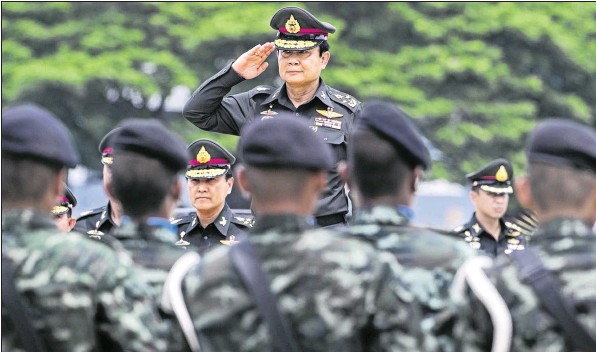 PHOTO: AGENCE FRANCE-PRESSE Since staging the coup on May 22, army chief Prayuth Chan-ocha, now Thailand's prime minister, has frequently expressed a distaste for unnecessary debate. While stifling dissent, he has made no apologies for packing the kingdom's appointed assembly with men in green.
By all indications, that is the way General Prayuth – now prime minister – likes it. Since staging the coup on May 22, the army chief has frequently expressed a distaste for unnecessary debate. While stifling dissent, he has made no apologies for packing the kingdom's appointed assembly with men in green.

Thailand's interim Constitution grants the junta special powers, while martial law is unlikely to be lifted soon. Few doubt Gen Prayuth's absolute power. He has gone on television to assure the nation: As long as power is used for good, there is no need to worry.

Yet the general may have set the bar too high.

Thai media are buzzing with discussion about policy proposals, long stymied by vested interests or delayed by political jousting, that bureaucrats think could finally see light of day.

Even some Thais who oppose the coup grudgingly admit that that a rubber-stamp parliament could pave the way for painful but important legislation.

Dr Somchai Jitsuchon, research director of the respected Thailand Development Research Institute, tells The Straits Times: "When you have that kind of power, you can do difficult things like structural reform… because you don't need to be popular."

But wielding power is one thing; being able to grasp complex issues and balance competing interests is another. While bureaucrats may be able to advise on the former, it is ultimately the duty of political leaders to forge consensus on policy direction.

And there are difficult proposals at stake. They include plans to raise taxes on land, broaden social welfare and introduce a wage supplement for the lowest income earners.

Dr Somchai, for example, has long advocated a comprehensive, cradle-to-grave welfare system that would protect the destitute and help mitigate rising inequality. According to his calculations, it would cost the nation 300 billion baht (S$11.7 billion) a year.

He remembers broaching the subject with the Democrat Party, which led a ruling coalition from 2008 to 2011, as well as the Puea Thai party, which held power from 2011 until it was overthrown by the coup in May.


"The Democrats said, 'Do not talk about raising taxes'," he related. "Puea Thai said there was no money."

Yet Puea Thai subsequently implemented a state rice purchase scheme that promised farmers a price about 50 per cent above market, which later was estimated to cost 500 billion baht.

The middle-class urbanites and elites who welcomed military intervention on May 22 think Gen Prayuth and his team can do better than the politicians. Throughout the seven months of street protests leading to the coup, they frequently expressed a yearning for "good people" to save the country from the never-ending stream of corrupt politicians thrown up by elections.

But the same vested interests that hampered reform under elected governments will continue to affect the appointed government.

Land tax reform will continue be tricky because powerful groups own the largest swathes of land in the country. Apart from politicians,they include the families of tycoons like Mr Charoen Sirivadhanabhakdi, who helms Thai Beverage. The Crown Property Bureau is another significant landlord.

Meanwhile, civil society groups are increasingly chafing under the martial law restrictions and accuse the junta of shunting them aside. They include activists who agitated against the Puea Thai government.

Last week, a group that tried to march from the southern city of Hat Yai to Bangkok to raise awareness of energy reform was arrested by soldiers, who said they were not allowed to violate the ban on political gatherings of more than five people.

The activists insist their actions are not political, turning the affair into a high-profile contest of wills.

Critics highlight the persistent graft allegations against the military, given past procurement deals involving dud bomb detectors and a problematic 350 million baht surveillance blimp.

The junta, they say, could have made its rule easier to stomach by getting members to declare assets as all incoming and outgoing politicians are obliged to do. A junta member earlier this month pledged to do so, but gave no indication when it would take place.

The big question, of course, is whether real progress can be achieved without the checks and balances that come with the inevitably messy business of inclusive consultation. It is a question that many authoritarian states in Asia have wrestled with for years.

Now, it is Thailand's turn in the spotlight.