The Wall Street Journal Asia - August 11, 2014
BY SHIBANIMAHTANI

NAYPYITAW, Myanmar—U.S. Secretary of State John Kerry said Sunday that Myanmar needs to cement democratic overhauls, but stressed continued support of its government and rejected calls for harsher policy against the country.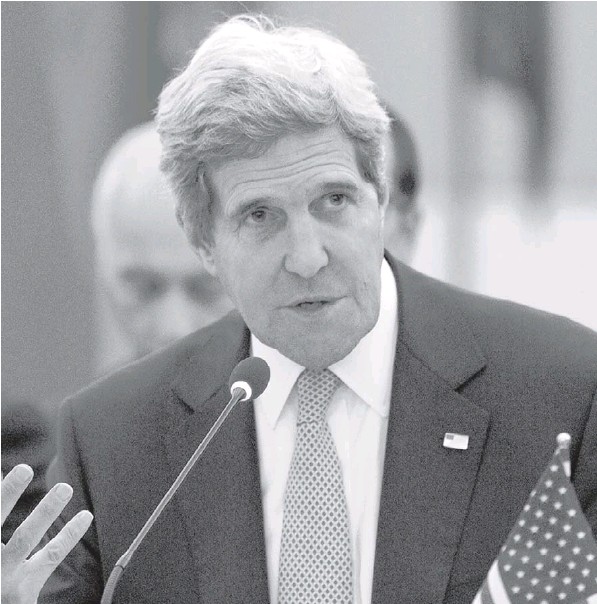 Mr. Kerry speaks at a diplomatic forum in Naypyitaw, Myanmar, on Saturday.

Mr. Kerry's remarks come amid criticism in the U.S. Congress that the Myanmar government is backsliding on sectarian violence, media freedom and allowing democracy icon Aung San Suu Kyi to compete for the presidency in next year's election.
Mr. Kerry reaffirmed U.S. commitment to the process of change led by the civilian government, mostly former generals who took over in 2011 from a military regime that had ruled Myanmar for nearly half a century. He also implied, in a response to media questions, that there would be no new conditions for support or a return to the economic sanctions imposed to drive out the former military rulers.

"This is hard work," Mr. Kerry told a news conference at the conclusion of a diplomatic forum organized by the Association of Southeast Asian Nations. "But you don't just achieve results by the consequence of looking at somebody and ordering them to do it, or telling them to do it, or else."

Mr. Kerry described bilateral meetings with President Thein Sein, held on the sidelines of the meeting, as candid and stressing friendship between the countries. He also met Shwe Mann, the parliament speaker and a likely presidential contender who leads a party aligned with the former military establishment. Mr. Kerry later traveled to Yangon to visit Ms. Suu Kyi.

In 2012, Washington started lifting economic sanctions. But sectarian violence between the country's Buddhist majority and Muslim minority, uncertainty over changing the constitution—which still bars Ms. Suu Kyi from assuming the presidency after elections next year and guarantees the military a political role—and an apparent rollback of media freedoms have led to fears that the reform process is stalling.

In July, four journalists and the chief executive of a newspaper were sentenced to a decade in prison over a report about an alleged chemical weapons factory.

In recent weeks, 72 members of the U.S. House of Representatives, both Democrats and Republicans, urged the Obama administration to rethink its Myanmar policy and avoid further concessions unless the government makes further progress on these issues. Some lawmakers have called for reimposing sanctions and have accused Mr. Obama of being unduly optimistic on Myanmar's progress.

"We are not basing anything that we are doing in Myanmar on the basis of blind trust or some naive sense of what the challenges are," Mr. Kerry said Sunday. Challenges were raised with Mr. Thein Sein and his government in a "very, very direct way," including the need to end decadelong wars with ethnic minorities in the borderlands, protect the media and prevent inter-communal violence.

In a briefing Saturday, State Department officials said Mr. Kerry specifically raised with Mr. Thein Sein the sectarian violence in Rakhine state, including access to humanitarian aid for more than 140,000 displaced people, most of them minority Rohingya Muslims. Discussions included the prospect of granting the Rohingya citizenship and allowing aid groups full access to the area.

Most people in Myanmar refuse to acknowledge the Rohingya as an ethnic group belonging to Myanmar, referring to them as "Bengalis," a term that implies they are migrants from neighboring Bangladesh and not entitled to citizenship. The group is denied most rights, including freedom of movement, and has limited access to health care.

Critics say that Myanmar's government has lacked the will or ability to ensure the group is allowed basic human rights and access to aid.

In March, the aid group Médecins Sans Frontières—the main provider of health care for Rohingya Muslims—was expelled from the state and says it is still unable to resume health-care services, despite an earlier government notice that it had been allowed back. The government hasn't been forthcoming on granting meetings that would allow its workers to enter the troubled state, MSF said.

Washington is aiming to use the warmer U.S.-Myanmar relations to push ahead on important issues without isolating the government, analysts said.

"The U.S. administration considers that it is through multifaceted engagement with Naypyitaw, be it diplomatic or economic, that it will best be able to influence the future shape of the country," said Romain Caillaud, managing director of political consultancy Vriens & Partners in Yangon.

Ye Htut, Myanmar's minister of information and presidential spokesman, said Saturday that U.S. lawmakers should give credit to the country for its progress and understand that not all problems can be solved quickly.

"We are worried that Myanmar will become a hostage of bipartisan fighting, and that is being dragged into domestic politics'' in America, Mr. Ye Htut said a day earlier. "We are not worried that this pressure will affect U.S. and Myanmar relations."